Second Presbyterian Church
GAMMA meets monthly on the second and fourth Thursday evenings at the Second Presbyterian Church, St. Louis, Missouri. The church is located at 4501 Westminster Place in the Central West End.
.
Our second-Thursday-of-the-month and fourth-Thursday-of-the-month meetings begin at 7:30 PM. Some members join together at 6:00 PM for dinner prior to this meeting at a restaurant announced several days in advance via your Meetup.com or Groups.io membership with us. Attendance at the 6:00 PM dinner event is optional.
Each calendar-quarter one of our meetings is devoted to viewing a quality feature-length, gay-themed movie. That meeting also begins at 7:30 PM. As with other meetings, some members of the group join for dinner at a location announced via group e-mail.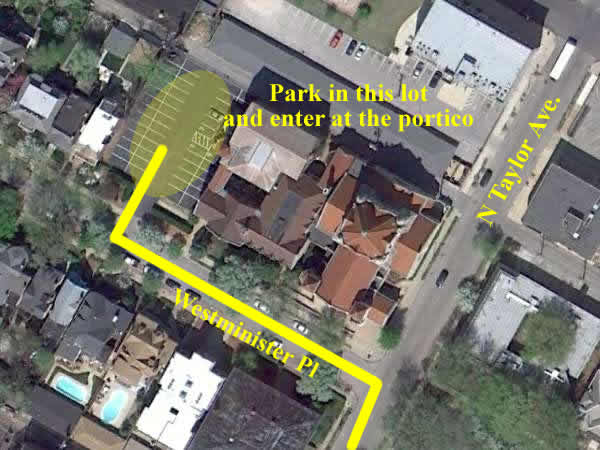 Second Presbyterian Church's parking is on the west side of their facility. If you approach Second Church on North Taylor Avenue from the south, then turn left at Westminster Place. Proceed west and turn right into their parking lot. You will see only one western entrance to the building. Press the intercom button and you will be "buzzed " in. Take the elevator to the lower level (dining room)..
In the map below the A marks the location of the church. Click on the map to enlarge it.